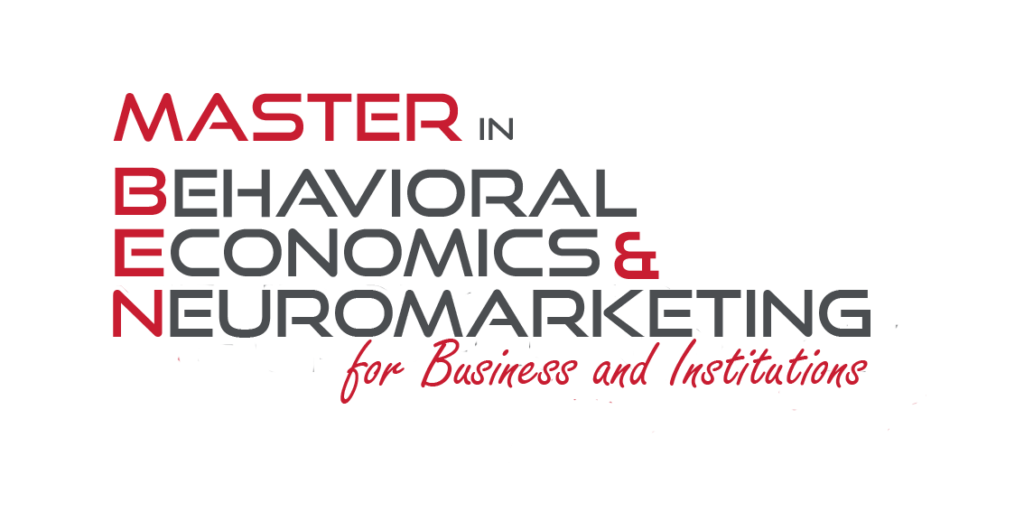 Behavioural economics and neuroeconomics are emerging management disciplines that can help business leaders and executives make sense of the economic behavior of real people.
In every sector there is a growing search for experts in behavioral economics and neuroeconomics. Gallup research revealed that a study group of 10 companies that applied these principles outperformed peers by 85% in sales growth and more than 25% in gross margin during a recent one-year period. (Source: Gallup)
Become an expert in behavioral economics and neuroeconomics. It could be a turning point for your career.
Who is it for?
The Post-Graduate Master in Behavioral Economics and Neuroeconomics for Business is specifically targeted at Bachelor and Master Graduates that are interested in studying human behavior in economics and that are keen in learning the experimental method.
Goals
The Master aims at providing students with a broad knowledge base in the area of behavioral economics and neuroeconomics in many business areas: finance, marketing, communication, HR, design and controlling.
Contents
The master consists of four main teaching areas:
Methods and Tools;
Economics and Management;
Behavioral Sciences;
Neurosciences and Decision making
Where?
The master will take place at the University of Pescara.
When the full calendar is available, students will be notified about rooms and schedules.
Internship
For those interested in applying the acquired skills within a business environment, there is the chance to take part in a 750-hour internship.
The internships will start immediately after the end of the teaching program.
Fees
The process for paying the fee is as follows:
1816€ enrollment fee*;
1800€ to be payed by June, 29 (2020).
*16€ costs for revenue stamps included.
There are some preferential student loans available.
Find out more here.
All the courses of the Master are provided in Italian 🇮🇹
A B2-level proficiency is highly recommended as participants should be able to interact with a degree of fluency and spontaneity that makes regular interaction with native speakers possible without strain, and understand the main ideas of complex topics, including technical discussions in the field.
Our faculty mainly consists of professors and researchers of the Department of Neurosciences, Imaging and Clinical sciences of the University Chieti-Pescara.
Together with our academics, the faculty will also be enriched with managers, practitioners and industry experts.
In 2018 our Department was acknowledged as a Department of Excellence from the Italian Ministry of University and Research. The Department hosts the Institute for Advanced Biomedical Technologies (ITAB).